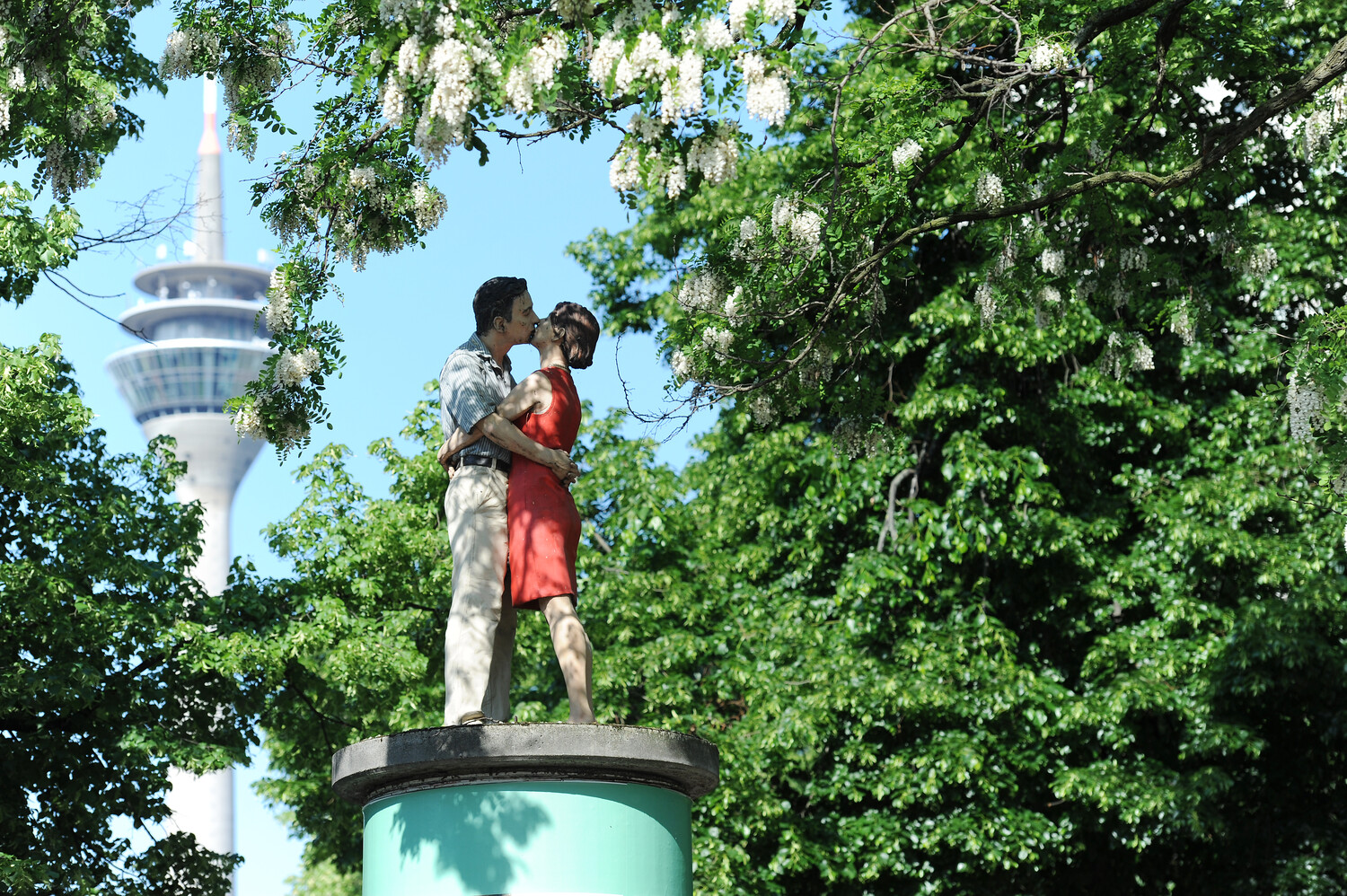 Six perfect places for dating
A multi-course meal, a climbing tour or doing kilometers together: These are the ways you can get it on with your crush 
You've been lying awake every night for days because your thoughts only revolve around him or her? You can't get a bite to eat, not even of your favorite dish? And when your cell phone rings, you look at it so quickly that nanoseconds take on a new meaning? Then congratulations! After all, there's almost nothing better than the famous butterflies in your stomach. As soon as it comes to the first date, however, the question arises: Where to go? But do not despair, because Düsseldorf offers wonderful places for it. And so hopefully in 20 years you will still be telling your children where you first met - even if they can no longer hear the story. Whether cozy, culinary or adventurous, these six places in Düsseldorf are perfect for the first of many dates! 
Appetite for each other: A date on the Carlsplatz 
Candlelight, a glass of wine or two, a plate of pasta from which you're happy to hand over a fork: That's how first dates in a restaurant go, or something similar. Standard somehow, and there's nothing wrong with that. But if you want to impress, it's better to choose an alternative similar to the classic candlelight dinner. For example, with a visit to Carlsplatz! Here you can not only make one of your first joint decisions - namely agree on a favorite flavor - but also extend the date informally if you like each other. Then it's not just a snack at the beginning, but you try an appetizer at the next booth, only to move on to the main course one booth further. After an intermediate course followed by dessert and coffee, including a stop at your favorite florist (red roses!), it's not far to the old town if you want to crown the successful meeting with a drink. 
Flying high together: getting to know each other at the climbing park 
Does "wobbly suspension bridge" sound familiar in the context of dating? If so, you've probably heard about the experiment according to which men are more likely to ask for a woman's number if a little adrenaline was involved in getting to know her (i.e. the woman was standing at the end of a dangerous bridge instead of an easily accessible one). Meaning: according to researchers, heart palpitations accelerate interest in the other person! Now Düsseldorf has - fortunately - only safer bridges, but this should not be a problem for your future love life. Bouldering also takes you to dizzying heights, especially since you'll be active together, despite possible differences in performance levels. In Düsseldorf, for example, the "Monkey Spot" in Heerdt on the left bank of the Rhine is a good place to celebrate your successes as a couple after a daring climb on the climbing wall. Fresh waffles with cherries are the reward afterwards - and maybe even the first kiss. 
Walking along the Rhine, or: Love is in the fresh air 
Not least due to the pandemic, many of us discovered walking for ourselves. This way of getting to know each other might seem a little old-fashioned or even boring, but on closer inspection it turns out to be quite ideal. Why? You are relatively (virus) safe, since you are out in the fresh air, and - not to be sneezed at - you are constantly moving. This makes sense especially for shy people, because walking next to each other is much more informal than going to a restaurant, for example. When sitting across from each other in a restaurant, you might run out of topics, which happens less quickly, if at all, during a walk along the Rhine promenade. The passing runners, cyclists or inline skaters, for example, invite conversation about one's own interest in sports, while the museums along the route reveal one's taste in art. The beer at the Fortuna-Büdchen washes away the last of the awkwardness - which, in the best case, leads to you immediately arranging an evening at the nearby opera or a ride on the Ferris wheel. 
Diving into other (mini golf) worlds together 
"Oops, so dark here, I must have accidentally stumbled into your arms!" - Ok, sounds like a particularly bad pickup line, but would be in exactly one place maybe just to forgive. And that's mini-golf in the dark! In the "GlowZone" in Gerresheim, you can try your hand at the 4-D version of the sport under black light. It's not quite as challenging as the bouldering mentioned above, but it still gives you a first impression of your swarm's ambition, enthusiasm for the game, and winning or losing mentality. You cheer each other on on a total of 18 courses and in six themed areas such as galaxy, volcanic landscape and underwater world. The good thing is that if the sparks unexpectedly don't fly, the date ends when you reach the final course, without you having to look for a possible escape route or find a good excuse to say goodbye.  
Together on Düsseldorf Tour 
Anyone who has been communicating with each other via a dating app for a long time - as is common today and especially since the Corona crisis - already knows the hobbies of the other person before the first meeting. A great prerequisite for booking a joint tour in Düsseldorf! Because the same interests, for example, for the enjoyment of beer, Japanese culture or the city history connect immensely. Apart from that, small pauses in conversation, which might be unpleasant in other places, are of no consequence - after all, if in doubt, the guides will quickly explain a fact again, for example about the art of brewing or the history of the Media Harbor. What's more, such a tour will give you an idea of how your loved one interacts with other people. And that can certainly never hurt.  
A love story ready for Hollywood: An evening at the art house cinema 
You don't want to take any risks on the first meeting with your potential dream partner and prefer to play it safe with a visit to the cinema? Absolutely understandable! After all, your knees are probably shaking with nervousness anyway, as if you were spending your beach vacation in Siberia. You certainly won't go wrong with watching a movie together, especially since you have the opportunity to convince with your choice of cinema in Düsseldorf. How about a rendezvous in one of the numerous art house cinemas? There you can enjoy not only the togetherness, but also highlights from Hollywood classics to rarely shown arthouse films. And before you know it, someone will be leaning in from the left or right, and in the best case, for many, many films.
 Title image: Düsseldorf Tourismus GmbH - U. Otte