What was once an industrial wasteland has become a cutting-edge landmark
MedienHafen
It is a must for architecture lovers: The MedienHafen in Düsseldorf shines with big names. The star architect Frank O. Gehry created a real Düsseldorf landmark with the three-part, organically designed building ensemble Neuer Zollhof.
Container
David Chipperfield, Joe Coenen, Steven Holl and Claude Vasconi also contributed to the fact that a tour through the former abandoned harbour area is now a highlight for tourists. The foresight of the city, which opted not to rehabilitate the whole land area, but rather to introduce new usage on an individual plot by plot basis, has had great results. The MedienHafen is home to more than 700 companies and some of the best and most popular restaurants in the city. For those who want to delve deeper into the world of the MedienHafen, a tour operated by Düsseldorf Tourismus GmbH is recommended.
Container
Landmark of Düsseldorf
The Rhine Tower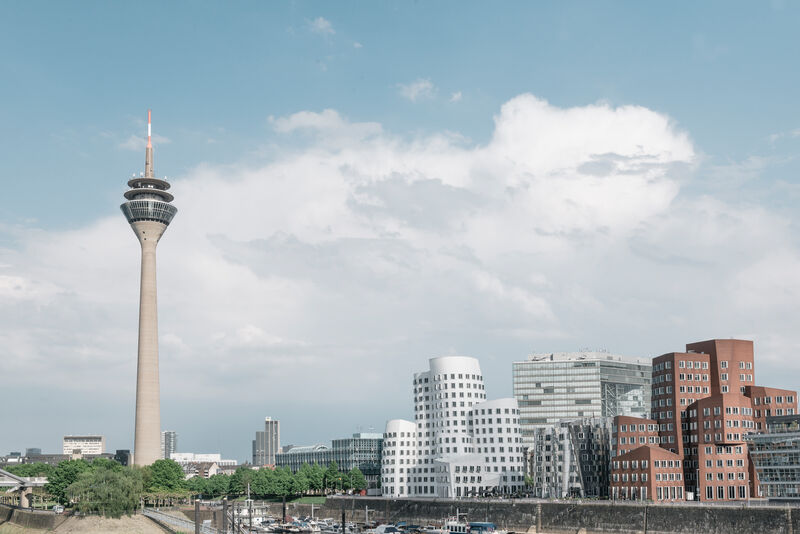 Container
It soars 234 metres into the sky, and on a clear day the Cologne Cathedral can be seen from the M168 observation deck. There is no better place in Düsseldorf to get a good idea of the geographical layout. Therefore, the following route is recommended for every newcomer: MedienHafen, Altstadt (Old town), Hofgarten, Königsallee and the Rhine with its series of bridges family can all be reached on foot. The visit to the tower, which was built between 1979 and 1982, can be prolonged in the Japanese restaurant Qomo, which receives its guests at an altitude of 172.5 metres. Here, the 360-degree panorama accompanied by sushi and miso soup glides past within 72 minutes. In fact, that is how long it takes for the place to revolve around its own axis.
Verweis: DiD PI
Verweis: Das ist Düsseldorf